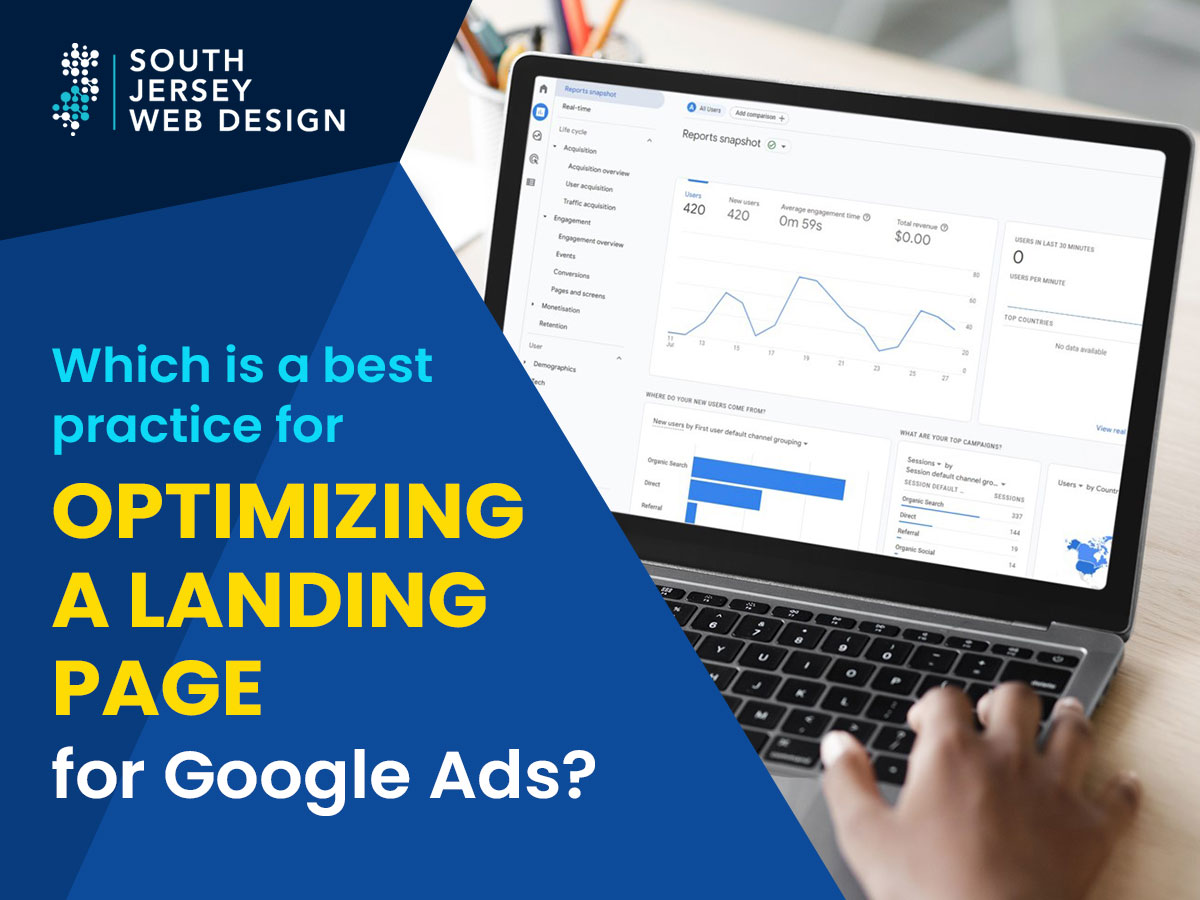 In the fast-paced world of digital advertising, the success of your Google Ads campaign often hinges on the effectiveness of your landing page. Crafting compelling ad copy, conducting thorough keyword research, and selecting the right keywords are essential components, but if your landing page doesn't deliver a seamless and relevant user experience, your efforts may fall short. To maximize your return on investment (ROI) and boost conversions, it's crucial to optimize your landing page for Google Ads. In this comprehensive guide, we'll delve into the best practices for optimizing a landing page to drive the best results from your Google Ads campaigns.
Introduction
Landing page optimization is a critical aspect of a successful Google Ads campaign. It involves creating a destination page that not only aligns with your ad's messaging but also provides a compelling and user-friendly experience. When executed correctly, landing page optimization can lead to higher Quality Scores, improved ad rankings, and increased conversion rates, ultimately delivering a more significant return on your advertising investment.
The Crucial Role of Landing Pages in Google Ads Campaigns
1. Ensures Relevance
Keyword Relevance: One of the primary factors that determine the success of your Google Ads campaign is the relevance of your landing page to the keywords you are targeting. When users click on your ad, they expect to find information that matches the ad's message and the keywords they used in their search. A well-optimized landing page ensures this alignment, leading to higher user satisfaction and engagement.
2. Enhances User Experience
User-Friendly Design: A dedicated landing page provides an opportunity to create a tailored user experience. You can design it with a clear layout, intuitive navigation, and compelling visuals that guide users toward the desired action, such as making a purchase or filling out a contact form. A seamless and user-friendly experience not only increases conversions but also improves the overall perception of your brand.
3. Drives Conversions
Conversion Optimization: Landing pages are specifically designed to drive conversions. Whether your goal is to generate leads, sell products, or promote a specific offer, a well-structured landing page can focus visitors' attention on the intended action. Elements like clear call-to-action buttons, persuasive copy, and trust-building elements can significantly increase the likelihood of conversions.
4. Enables Tracking and Analysis
Data-Driven Decisions: Landing pages provide a controlled environment for tracking user behavior and collecting data. By integrating tools like Google Analytics, you can gain valuable insights into how visitors interact with your landing page. This data allows you to make informed decisions about your ad campaigns, such as identifying which keywords or ad variations are performing best and which need optimization.
5. Improves Quality Score
Quality Score Impact: Google Ads assigns a Quality Score to your keywords and ads, which directly affects your ad's position and cost-per-click (CPC). Landing page experience is one of the factors considered in Quality Score calculation. A relevant and high-quality landing page can improve your Quality Score, leading to better ad placements and potentially lower advertising costs.
6. Supports Ad Testing
A/B Testing: To fine-tune your ad campaigns for optimal performance, you may want to conduct A/B tests. A landing page is an ideal place to test different ad variations. You can create multiple versions of your landing page to assess which elements, such as headlines, images, or CTA buttons, resonate most with your audience. This iterative testing process allows you to continually refine your ad campaigns.
7. Increases Ad Rank
Ad Position Improvement: Google Ads uses a combination of factors to determine ad rank, including bid amount, ad quality, and landing page experience. A well-optimized landing page can contribute to a higher ad rank, which means your ads are more likely to appear in prominent positions on the search results page, increasing visibility and click-through rates
Best practices for optimizing a landing page for Google Ads
1. Relevance is the Bedrock
Best Practice:
Ensure Landing Page Relevance
The fundamental principle of landing page optimization is ensuring that your landing page is highly relevant to the ad that brings visitors to it. Google rewards relevance, and aligning your landing page content with your ad copy is essential for success. A cohesive and harmonious message from ad to landing page not only enhances the user experience but also positively impacts your Quality Score.
Action Steps:
– Match your ad copy to the content on the landing page.
– Incorporate relevant keywords from your ad into the landing page content.
– Maintain consistency in messaging, visual identity, and tone across your ad and landing page.
2. Mobile Optimization is a Must
Best Practice:
Make Your Landing Page Mobile-Friendly
The mobile revolution is in full swing, with a substantial portion of internet users accessing websites on smartphones and tablets. To cater to this audience effectively and maintain your ad rankings, your landing page must be mobile-responsive.
Action Steps:
– Utilize responsive design to ensure your landing page adapts seamlessly to various screen sizes.
– Prioritize fast loading times on mobile devices, as slow-loading pages can result in higher bounce rates.
– Rigorously test your landing page on multiple mobile platforms and screen sizes to guarantee a consistent and user-friendly experience.
3. Craft an Irresistible Call to Action (CTA)
Best Practice:
Create a Compelling CTA
A clear and compelling Call to Action (CTA) is the driving force behind conversions on your landing page. Whether it's "Buy Now," "Get Started," "Request a Quote," or any other directive, your CTA should be impossible for visitors to ignore.
Action Steps:
– Use persuasive language in your CTA that conveys a sense of urgency or benefit.
– Make the CTA button visually distinct through size, color, or placement.
– Highlight the value or benefits of taking the desired action, emphasizing what users stand to gain.
4. Streamline Navigation
Best Practice:
Eliminate Distractions
A well-optimized landing page should have a clean and focused design. Remove any navigation menus or links that could divert visitors' attention from your primary CTA. The objective is to guide visitors toward the desired action without unnecessary detours.
Action Steps:
– Remove extraneous links, menus, or distractions that could lead visitors away from your CTA.
– Consider a single-column layout that guides users from top to bottom, directing their focus toward your CTA.
– Minimize the number of form fields to collect only essential information, reducing friction for users.
5. Prioritize Page Load Speed
Best Practice:
Speed Matters
Page load speed is a critical factor in user satisfaction and SEO performance. Slow-loading pages can result in higher bounce rates and lower Quality Scores, impacting both your ad campaign's effectiveness and your organic search rankings.
Action Steps:
– Optimize images and multimedia elements to reduce their file sizes.
– Minimize the number of HTTP requests by combining CSS and JavaScript files where possible.
– Implement browser caching and consider using a content delivery network (CDN) to distribute content efficiently.
6. Establish Trust with Trust Signals
Best Practice:
Build Confidence
Trust signals are elements on your landing page that instill confidence in your visitors. Including trust signals such as customer reviews, trust badges, privacy policy links, and secure socket layer (SSL) certificates can reassure users about the safety and reliability of your website.
Action Steps:
– Showcase authentic testimonials and reviews from satisfied customers.
– Display trust badges that highlight secure payment processing or industry certifications.
– Clearly communicate your privacy policy, terms of service, and any guarantees or warranties you offer.
7. Continuous A/B Testing
Best Practice:
Iterate and Improve
Optimization is an ongoing process. Use A/B testing to experiment with different elements on your landing page, such as headlines, images, CTAs, and form designs. Analyzing the results of these tests allows you to refine your page for better performance continually.
Action Steps:
– Conduct A/B tests to compare variations of your landing page elements.
– Monitor key performance metrics, including conversion rate, bounce rate, and click-through rate.
– Make data-driven decisions based on the results of your tests to improve your landing page incrementally.
Conclusion
Optimizing your landing page for Google Ads is a multifaceted task that involves careful consideration of various elements, from relevance and mobile-friendliness to CTA effectiveness and page load speed. A well-optimized landing page can significantly enhance the performance of your Google Ads campaigns by improving your Quality Score, increasing user engagement, and ultimately driving conversions.
Remember that optimization is an ongoing process, and regular monitoring and fine-tuning of your landing page are essential for achieving the best results. By implementing these best practices and continually iterating on your landing page's performance, you can maximize your ROI and ensure that your Google Ads campaigns consistently deliver the results your business needs to thrive in the digital advertising landscape.
At South Jersey Web Design we understand the importance of a seamless user experience and the impact it has on your ad campaigns. Whether you're looking for pay per click NJ or enhance your ROI, our expertise can help you create landing pages that convert.