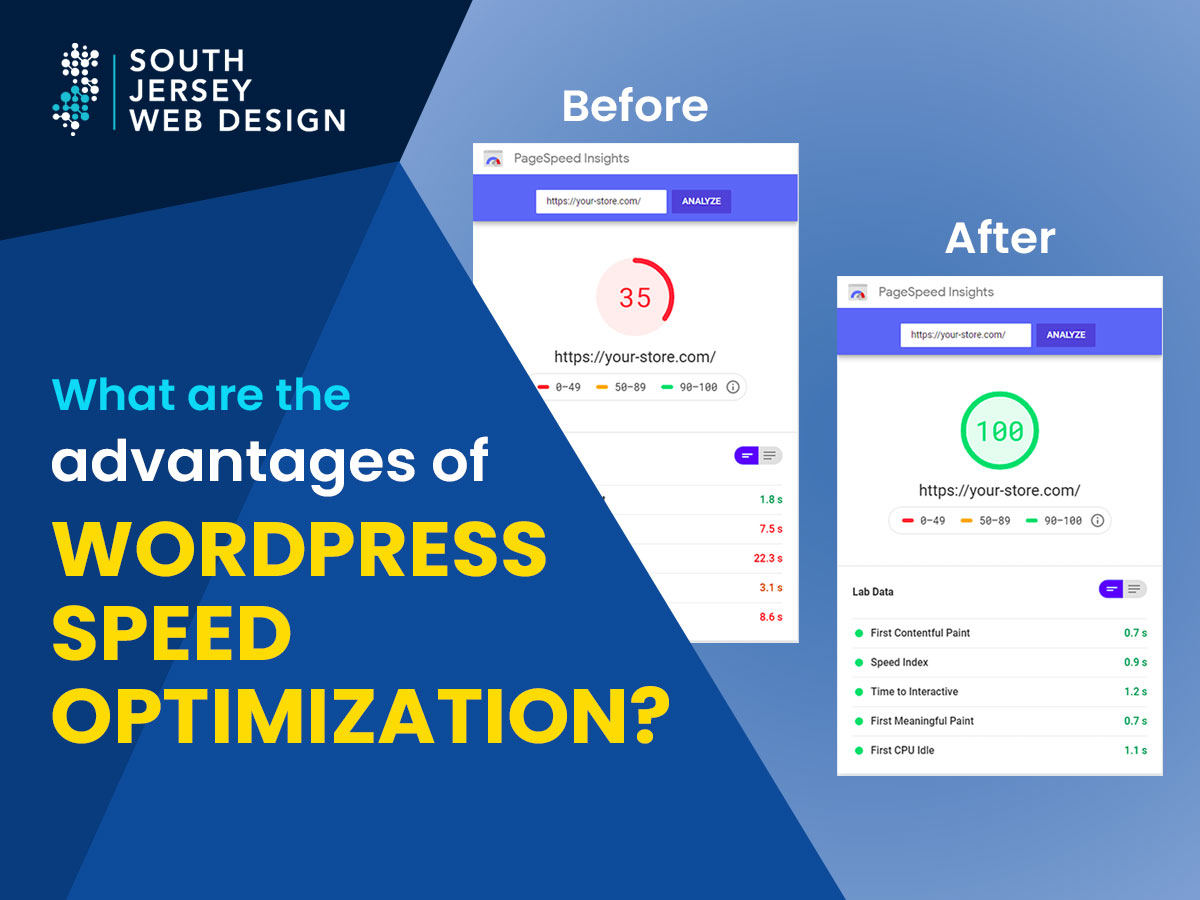 In today's fast-paced digital landscape, where the advantages and disadvantages of WordPress are constantly debated, the speed at which your website loads can make all the difference. With attention spans decreasing and competition increasing, ensuring that your WordPress website is optimized for speed is crucial for success. In this comprehensive guide, we'll delve into the advantages of WordPress speed optimization and why it should be a top priority for every website owner.
Advantages of WordPress speed optimization
1. The Need for Speed
The Impatient Generation
Picture this: a potential customer stumbles upon your website, eager to explore what you have to offer. But, as the seconds tick away and the page fails to load swiftly, frustration sets in, and they hit the dreaded back button. This is the reality of the digital age—a generation with diminishing attention spans and zero tolerance for sluggish websites. Speed is the gateway to capturing and retaining the fleeting attention of online users.
First Impressions Matter
Your website's speed is often the first impression users have of your brand. A slow-loading site can tarnish your reputation and erode trust, sending visitors fleeing to faster competitors. Conversely, a lightning-fast website can captivate users and leave a lasting positive impression.
2. SEO Benefits of Speed Optimization
The Google Standard
In the ever-evolving world of search engine optimization (SEO), Google reigns supreme. Google has officially confirmed that page speed is a ranking factor. Websites that load quickly are favored in search engine results pages (SERPs), gaining a competitive edge in the race for online visibility. We delve into the correlation between speed optimization and SEO success.
Core Web Vitals
Google's Core Web Vitals, a set of user-centric metrics, have elevated the importance of page speed in search rankings. We explore how optimizing for Core Web Vitals can catapult your website to the top of Google's SERPs.
3. Mobile Optimization
The Mobile-First Imperative
The ubiquity of smartphones has given rise to a mobile-first approach in web design. With mobile users surpassing desktop users, ensuring your WordPress site loads flawlessly on mobile devices is imperative. Speed optimization is the linchpin of a successful mobile strategy.
A Mobile-Responsive Revolution
Discover the techniques and tools to transform your WordPress site into a mobile-responsive marvel. From responsive design principles to mobile-friendly optimization strategies, we uncover the secrets to captivating your mobile audience.
4. Reducing Bounce Rates
The Curse of High Bounce Rates
Bounce rates, where visitors swiftly exit your site after viewing only one page, can spell doom for your online goals. Slow websites are a primary culprit behind high bounce rates. Learn how speeding up your WordPress site can keep visitors engaged and reduce bounce rates.
The Science of User Retention
We dissect the psychology behind user engagement and how a speed-optimized website can prolong user sessions, encouraging deeper exploration of your content and improved interaction.
5. Conversion Rate Optimization
The Conversion Conundrum
For e-commerce websites and businesses focused on conversions, speed optimization is a revenue multiplier. Studies reveal that even a one-second delay in page load time can lead to a significant drop in conversion rates. Dive deep into real-world examples and strategies for turbocharging your conversion rates.
6. Cost Savings
Efficiency Equals Savings
Speed-optimized WordPress websites are inherently more efficient. They require fewer server resources, potentially reducing hosting costs. We also explore the cost implications of slow-loading websites, including potential losses due to downtime and decreased user engagement.
7. Accessibility and Inclusivity
Speed as an Accessibility Tool
Web accessibility is a vital aspect of web design, and speed optimization plays a crucial role in enhancing it. Faster websites are more accessible to people with disabilities, screen reader users, and those with limited internet connectivity.
Inclusivity for All
We uncover how speed optimization aligns with inclusivity principles and the importance of catering to diverse user needs.
8. Boosting User Engagement
Captivating Your Audience
Website speed affects user engagement in various ways. Fast-loading websites encourage users to explore more pages, spend more time on your site, and interact with your content. Whether you're running a blog, an online store, or a news site, improved user engagement can lead to higher ad revenue, more social shares, and a stronger online community.
9. Competitive Advantage
The Need for Speed in a Crowded Market
In a crowded online marketplace, a speed-optimized WordPress website can give you a competitive edge. When your site outperforms competitors in terms of speed, you're more likely to attract and retain visitors. This can lead to increased market share and a stronger position within your industry.
10. Data Accuracy and Analytics
Informed Decisions through Accurate Data
Accurate data is essential for making informed decisions about your website's performance and content strategy. Slow-loading pages can skew analytics data, making it challenging to assess user behavior accurately. With a speed-optimized WordPress site, you can trust that your analytics data reflects genuine user interactions and preferences.
How to Speed Up Your WordPress Website
There are numerous techniques and strategies to speed up your WordPress site and keep it running smoothly. In this comprehensive guide, we'll walk you through the steps to optimize your website for speed.
1. Choose a Reliable Hosting Provider
The foundation of a fast WordPress website starts with your hosting provider. Opt for a reputable and reliable hosting company that offers excellent performance and customer support. Consider managed WordPress hosting for optimized server configurations tailored for WordPress.
2. Use a Lightweight Theme
Selecting the right theme is crucial for speed. Choose a lightweight, well-coded theme that doesn't include unnecessary features or bloated code. Themes like these load faster and provide a solid foundation for your website.
3. Keep Your WordPress Core, Themes, and Plugins Updated
Outdated software can slow down your website and pose security risks. Regularly update WordPress, themes, and plugins to benefit from performance improvements and security patches.
4. Optimize Images and Media Files
Large images and media files can be a major cause of slow load times. Use image compression tools or plugins to reduce file sizes without compromising quality. Lazy loading is another technique to consider, loading images only as users scroll down the page.
5. Leverage Browser Caching
Browser caching stores static files like images, stylesheets, and JavaScript in visitors' browsers. This reduces the need for repeated downloads on subsequent visits, resulting in faster loading times. You can enable browser caching through plugins or by configuring your server.
6. Implement Content Delivery Networks (CDNs)
CDNs distribute your website's content across multiple servers worldwide, delivering it from the server closest to the user. This significantly reduces server response times and improves loading speed, especially for global audiences.
7. Minify CSS and JavaScript Files
Minification involves removing unnecessary characters from your CSS and JavaScript files. Plugins or manual methods can be used to minify these files, reducing their size and improving load times.
8. Reduce Server Requests
Each element on a web page (e.g., images, scripts, stylesheets) requires a separate server request. Minimizing these requests by combining CSS and JavaScript files, using CSS sprites, or reducing the number of external scripts can greatly enhance your site's speed.
9. Optimize Database Tables
Regularly clean up your database by removing spam comments, post revisions, and unused plugins. Optimizing your database tables can reduce the database's size and improve site performance.
10. Utilize GZIP Compression
Enabling GZIP compression on your server can significantly reduce the size of your HTML, CSS, and JavaScript files before they are sent to the user's browser. Smaller files load faster, enhancing your website's speed.
11. Implement Content Expiry Headers
Set content expiry headers to specify how long browsers should cache your site's static resources. This reduces the need for repeated downloads and improves loading times for returning visitors.
12. Consider a Caching Plugin
Caching plugins like WP Super Cache or W3 Total Cache can generate static HTML versions of your pages, reducing server load and improving page load times. These plugins often come with additional optimization features.
13. Monitor and Test Your Site's Speed
Regularly test your website's speed using tools like Google PageSpeed Insights, GTmetrix, or Pingdom. These tools provide insights and recommendations for further speed improvements.
14. Regularly Backup Your Website
Although not directly related to speed, regular backups are essential to ensure that your site's data is secure. Choose a reliable backup solution to protect your content and settings.
15. Enable HTTPS (SSL Encryption)
Not only does SSL encryption enhance security, but it can also improve your website's search engine rankings. Many hosting providers offer free SSL certificates, making it easier than ever to implement HTTPS.
16. Consider Professional Help
For complex speed optimization tasks or if you're unsure about making technical changes, consider hiring a professional developer or a WordPress expert to help you achieve the best results.
Conclusion
In conclusion, WordPress speed optimization is not just a technical concern; it's a strategic advantage. The benefits of a faster website extend to user experience, SEO, mobile responsiveness, and your website's overall success. To stay competitive and meet the demands of modern internet users, prioritize speed optimization as a core aspect of your WordPress website management strategy. Invest in the right tools, techniques, and expertise to ensure your website loads at lightning speed, providing an exceptional experience for your visitors and unlocking the full potential of your online presence in the world of WordPress speed optimization services.